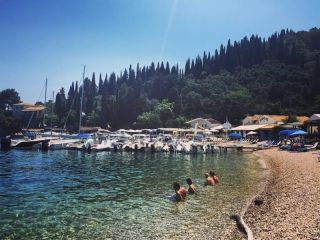 Agni Bay, located on the island's north-east shore, is a hidden treasure.
This small gem is an absolutely stunning location for experiencing island life. Enjoy the beach, cool down in the warm seas, and taste the fresh food at one of the coastal tavernas serving Corfiot cuisine. If you like seafood, you will adore this little bay. Remember to bring a couple bottles of water with you as well. This little location is devoid of facilities. Even so, it remains one of the top Corfu activities.
The bay has jetties which have been built with the primary motive of offering anchor to the boats that ply from here. The beach slopes profoundly into the sea and there are numerous jagged submerged rocks that make it out of bounds to children. Sunbeds are provided by the taverns.
The scenic beauty of Agni offers visitors tranquil moments. There is a diving center offering numerous training courses offered to enthusiasts or amateurs. You can reach Agni by bus. In close distance from the beach there are two taverns serving famous Corfiot dishes and delicious seafood delicacies.
Read also

Previous article
Corfu town

Next article
Vlacherna Monastery