When visiting the beautiful island of Corfu there are so many amazing places to visit, from crystal clear blue beaches to picturesque villages and the historic old town of Corfu. The easiest way to explore the island is by renting a car from our car rental company in Corfu. A truly exceptional location for taking a break from the hustle and bustle of your life Corfu offers a perfect getaway for you and your family's vacation. And Corfu City Cars Car Rental is here to make it happen!
Book Now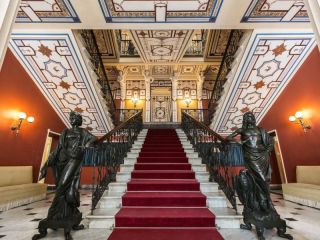 With so many unforgettable things to do in Corfu, one visit is never enough.
Its true fact that many locations in Europe are worth visiting and they are offering nice beaches and relaxing atmosphere for summer vacations, but very few of them are in the list of return-back-as-soon-as-possible one more time. Corfu is one of such locations! This is particularly right when it comes to the greatest things to do in Corfu, which are scattered over the island.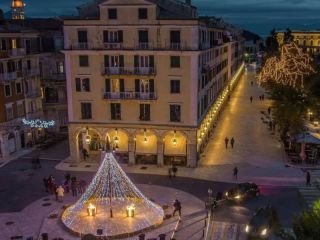 Corfu town, the island's charming capital, is a labyrinth of cobblestone streets and exquisite Venetian-era buildings.
Corfu Town, the island's charming capital, is a labyrinth of cobblestone streets and exquisite Venetian-era buildings while many of them today are housing delicious seafood tavernas and souvenir stores on the ground floor. The UNESCO-listed old town, which is centered on the Espianade, is defended by two spectacular 16th-century castles and also has a number of churches, including the Church of St. Spyridon, which is immediately identifiable by its red-domed bell tower.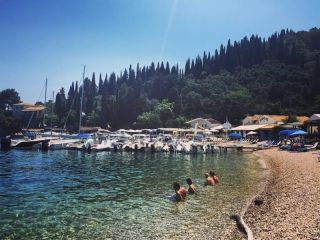 Agni Bay, located on the island's north-east shore, is a hidden treasure.
This small gem is an absolutely stunning location for experiencing island life. Enjoy the beach, cool down in the warm seas, and taste the fresh food at one of the coastal tavernas serving Corfiot cuisine. If you like seafood, you will adore this little bay. Remember to bring a couple bottles of water with you as well. This little location is devoid of facilities. Even so, it remains one of the top Corfu activities.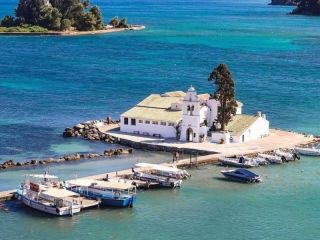 Perhaps one of Corfu's most recognizable landmarks, Vlacherna Monastery juts out into the sea on its own island.
Nowadays, the monastery is approached through a little walk that crosses the lake, making it an idyllic location for a visit. The monastery is open all year and welcomes guests from all over the world. Keep a note also for Mouse Island, which is located little farther out to sea. It is said to be the petrified ship of Odysseus, the ancient king of Ithaka, when, according to the myth arrived in Corfu exhausted from his long journey after Troian war.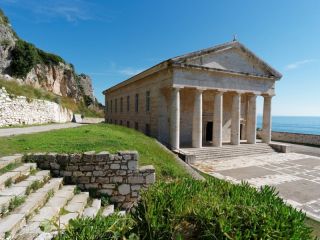 A dazzling white edifice resembling an ancient Greek temple dominates a sweeping flat platform on the southern flanks of the Palaio Frourio.
Although this Church resembles a Doric temple, it was actually erected in the nineteenth century by the British Military for religious purposes.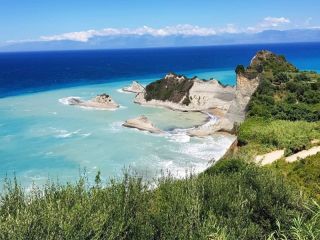 Cape Drastis is one of Corfu's most northerly points (and one that should not be missed).
While there are always variances over when Cape Drastis is accessible, it's much more safer visiting it in the summer months when is easier to reach. Near the top of the road is a gate that is 'sometimes' guarded in order to charge for admission. This is not always the case, and you may be fortunate enough to be able to just drive right through.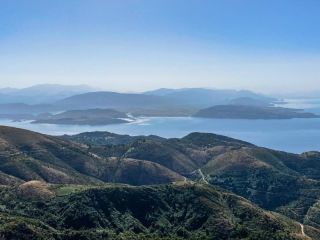 Corfu's highest mountain, at 906 metres, is located in the north of the island and is accessible by road.
A café, a telecommunications station, and a monastery dating from the late 17th century are located on the top. You may either take a minibus excursion from one of Corfu's seaside resorts or drive yourself up here. Now, the road, with its many drop-offs and hairpin twists, is not for the faint of heart, but the view itself will payback for sure. Small animals of the forest such as foxes, rabbits, hedgehogs and even eagles will keep you company along the way. Please be kind to our small buddies.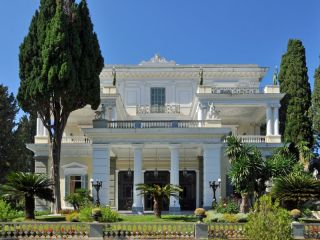 Achilleion is a palace built in Gastouri on the Island of Corfu for the Empress Elisabeth of Austria, also known as Sisi.
In 1888, Elisabeth of Bavaria, Austria's Empress, commissioned the construction of a holiday home on a hilltop site approximately 10 kilometers south of Corfu City. This Neoclassical mansion, constructed by Italian architect Raffaele Caritto, is dedicated on the hero Achilles. For the gardens, the famed German artist Ernst Herter created sculptures inspired by Greek mythology (the most famous shows Achilles in his death throes). You may visit the gardens, which are enhanced with balustrades, a column, fountains, and Herter's sculptures among the palms and groomed cypress trees.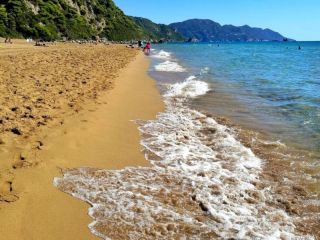 Glyfada beach is a lovely, long length coastline of fine golden sand beach flanked with loungers and umbrellas.
Glyfada, often regarded as the island's nicest beach, is also located on the island's west coast, 26 kilometers west of Corfu town and two kilometers south of the settlement of Pelekas (a lovely small village with fantastic view-check out absolutely the Kaiser's Throne before going to the beach). A lovely, long length coastline of fine golden sand beach flanked with loungers and umbrellas and backed by pine and olive grove-covered slopes.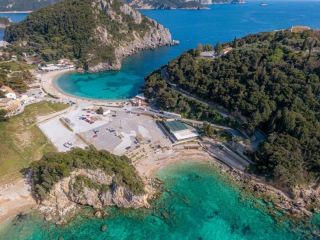 Paleokastritsa is located on the west coast of Corfu, 25 kilometers northwest of Corfu Town.
It contains a magnificent length of indented coast with six deep, curving coves sheltering gorgeous beaches of sand and pebble that continue to a crystal-clear, blue sea. It is popular with day trippers, and as a result, it may become rather crowded during peak season.