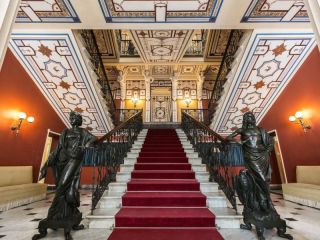 With so many unforgettable things to do in Corfu, one visit is never enough.
Its true fact that many locations in Europe are worth visiting and they are offering nice beaches and relaxing atmosphere for summer vacations, but very few of them are in the list of return-back-as-soon-as-possible one more time. Corfu is one of such locations! This is particularly right when it comes to the greatest things to do in Corfu, which are scattered over the island.
Additionally, the island is steeped with history. Corfu was ruled by the Venetians from 1386 until 1797, a time where they were developed many of its most exquisite buildings. From 1815 until 1864, it was administered by the British, along with the rest of the Ionian Islands. Corfu Airport is located five kilometers south of the town of Corfu. Plan your journey with our guide to Corfu's greatest attractions.
Let's explore the best things to do and places to visit in Corfu:
How to navigate in Corfu?
If you are looking to visit magnificent places in the city of Corfu for your vacation, then you should opt for car rental. CorfuCityCars.gr will provide you with one of the best new cars with low mileage along with full insurance,so you can enjoy your trip to Corfu and enjoy your vacation without problems. CorfuCityCars.gr can also arrange Corfu airport delivery and helping you navigate from one point in the city to another with ease. Visit our booking form and rent a car now.
Conclusion
Corfu is located in Greece's extreme northwest corner, right off the shore of Albania's land border. It is the second-largest Ionian island, when combined with its little neighboring islands. Corfu served as a haven for shipwrecked Odysseus and other visitors throughout history. Since the eighth century BC, its gorgeous coastline, grassy hills, and sparkling bays have drew travelers. Corfu is strategically located and has been battled for ages. Corfu town is the only Greek city surrounded by fortresses and one of the few to have resisted the Ottomans. Corfu stayed under Venetian hands rather than surrendering to the Ottoman conquest, which gives it a completely distinct vibe than some of the other Greek Islands.
Read also