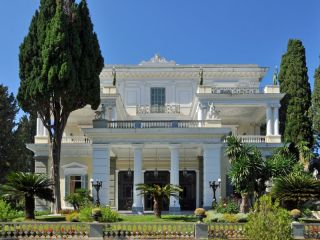 Achilleion is a palace built in Gastouri on the Island of Corfu for the Empress Elisabeth of Austria, also known as Sisi.
In 1888, Elisabeth of Bavaria, Austria's Empress, commissioned the construction of a holiday home on a hilltop site approximately 10 kilometers south of Corfu City. This Neoclassical mansion, constructed by Italian architect Raffaele Caritto, is dedicated on the hero Achilles. For the gardens, the famed German artist Ernst Herter created sculptures inspired by Greek mythology (the most famous shows Achilles in his death throes). You may visit the gardens, which are enhanced with balustrades, a column, fountains, and Herter's sculptures among the palms and groomed cypress trees.
The inside is a museum filled with mementos from Elisabeth of Bavaria, Franz Joseph II, and Kaiser Wilhelm II. Upstairs, an enormous picture by Austrian artist Franz Matsch depicts Achilles pulling Hector's corpse from his chariot, while the dining hall is adorned with plaster cherubs against blue walls. It is said that the artist committed suicide once the painting finished, because he sadly realized that the wheels of the Achilles cart seemed steady and not moving. Really interesting story.
Read also

Previous article
Mount Pantokrator

Next article
Glyfada beach