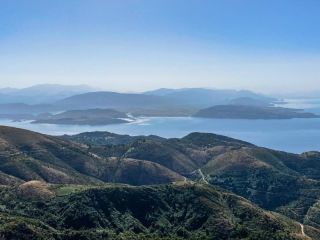 Corfu's highest mountain, at 906 metres, is located in the north of the island and is accessible by road.
A café, a telecommunications station, and a monastery dating from the late 17th century are located on the top. You may either take a minibus excursion from one of Corfu's seaside resorts or drive yourself up here. Now, the road, with its many drop-offs and hairpin twists, is not for the faint of heart, but the view itself will payback for sure. Small animals of the forest such as foxes, rabbits, hedgehogs and even eagles will keep you company along the way. Please be kind to our small buddies.
When you reach the top, you can view the Ionian Islands, the Greek mainland, Albania, and, 130 kilometers to the west, Puglia.

Previous article
Cape Drastis

Next article
Achilleion